You can add files to a record through our integration with Google Drive. You can pull files or file folders from your individual Drive or Team Drive. That way any user with visibility into the record can access the docs.
There are two ways for files to get added: through our file auto-relate feature, or by adding them manually.
File Auto-Relate
Copper automatically relates files from emails and attaches them to the relevant Person in Copper. No more downloading and uploading, sifting through Google Drive and Gmail or asking someone to re-send a file.
Once a file is auto-related, your team can easily find it from the sender or recipient's Person record or from their related Companies and Opportunities.
Once a file is auto-related, you can preview it, see its details, or attach those it to future emails!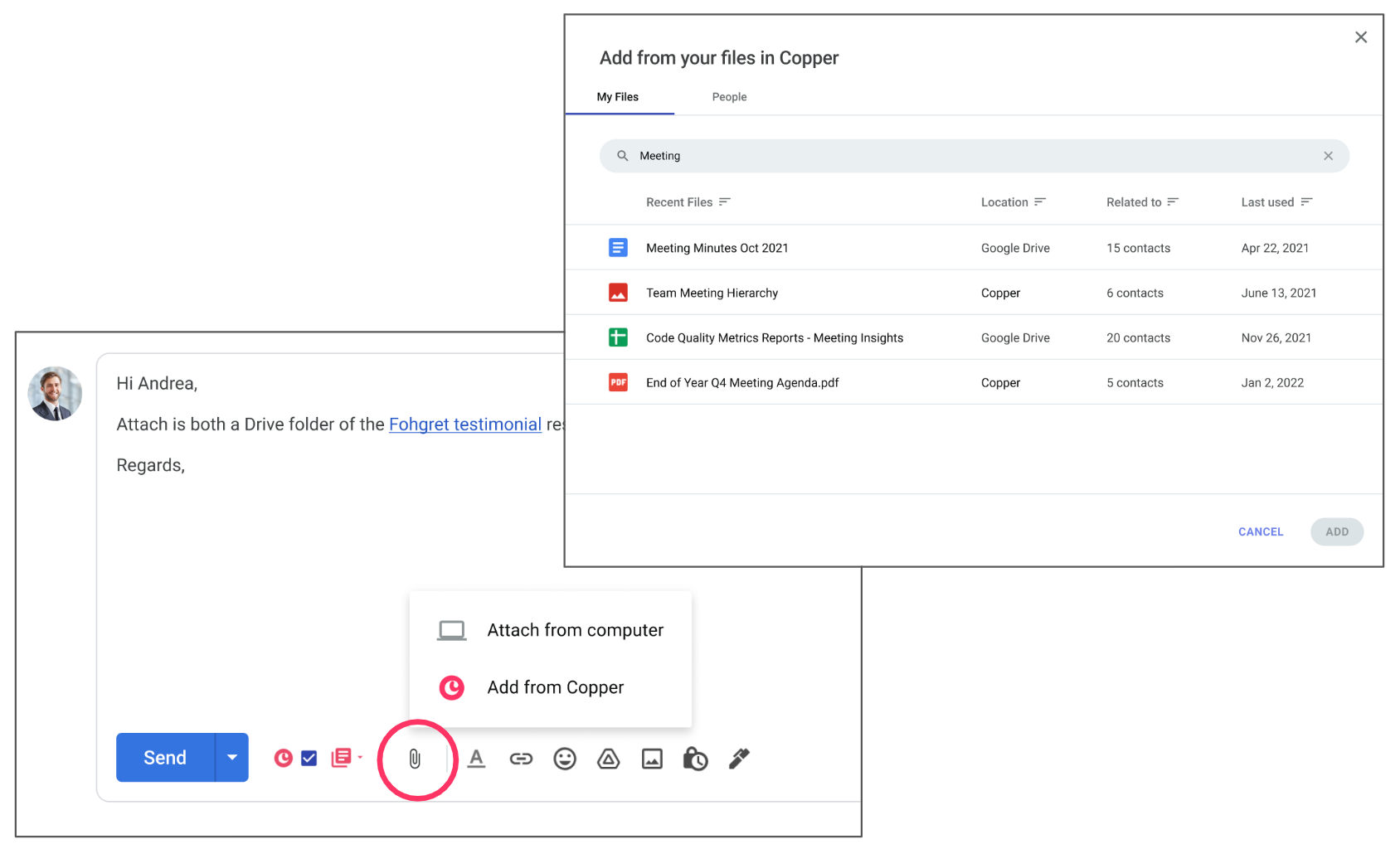 For more details (and a video!), click here.
Manually Adding Files
Sign into your Copper account
Go to Settings -> Company Users -> Click the pen icon next to your name and make sure "Google Sync" is checked
Select a record type from the left-hand menu. In this example, we are selecting People.
Click the name of the record from the records landing page. In this case, we'll click 'Dwight Schrute' from the list of people records.
On the right-hand side of the record profile page, click the '+' icon to the right of 'Files.'
Choose 'Link to Google Drive' from the menu that appears:
Click the name of a Google Drive File to associate multiple docs/sheets/slides to a Copper record, or click the name of an individual record.
Click 'Select' when you're done.
Navigate back to the record's profile page in your Copper account to see your file or folder attached:
Still have questions?
Still have questions? Ask in our Community, and get answers from our Customer Success Team as well as fellow users.